with a keen passion for connecting with people and entertaining the audience
Elegance, enthusiasm and versatility along with electrifying stage presence and non-stop entertainment, to make an event uniquely successful, That's what defines Emcee Myra D'costa. Having an appropriate level of humor blended with glamour Emcee Myra ensures smooth and timely running of your event.
With an ever-smiling face, fully energetic & a vibrant voice, Emcee Myra D'costa is ascertained to make your event the most memorable one.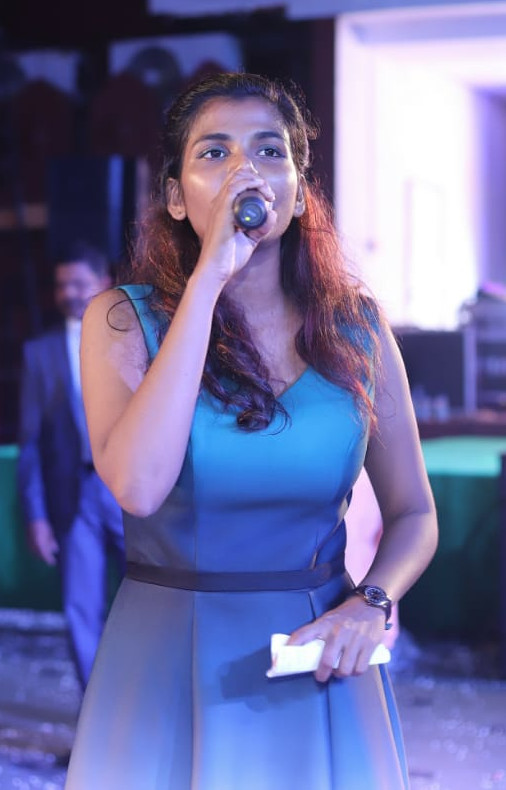 Very good at crowed engagement. If you are looking at female emcee. She is the one u could go with. 🙂
Ramsey Fernandes
Dear myra,
I love your compareing. Very responsive and love the way you speak. It was my pleasure to meet you for the first time at alua and I was very impressed with your profession.
Looking forward to seeing you in future.
Love you girl!
Agneta Ramos
To boost your occasion you need a good Emcee and Myra is just the perfect booster for your events. Personally have experienced her performance. I would strongly recommend to book her to lit up your occasion.
Steven Vaz
She is one of the most amazing host i have seen jolly friendly loving give her best puts her full heart n soul to mke the occassion special n memorable 💋💋thank u for making my 21st birthday a memorable one too😘😘
carol saldanha
Myra is awesome, whenever we see her performance in any function and event, we always have fun and excitement. We never forget her act and event performance. Keep it up Myra, God bless you always…… 👍👏🏻
Ravindra Patil
I am glad that I choose Myra as the MC for my wedding… She made the special day much more memorable….. Amazing person, fun, loving and full of energy…
Rohini Madiwalker
In my point of view she is best female MC ever and I loved her hosting in the wedding reception also she is very friendly and she is very good in nature
Norbert Fernandes
Every Post of yours, has a meaning and value addition to it, in terms of creating awareness, party themes and organising events.
Stanwyn Dsouza
Came across Myra at a wedding and I was pleased by the pomp and life she brought to the party! A celebration in the truest way. Would definitely recommend!!
Neiomi Gomes